Four management-learnings from the "Facebook-Flood"
What can managers learn from the many examples of self-organization, collective intelligence and networked cooperation? In the management-blog of Wiwo I published four learnings that I want to mention once again.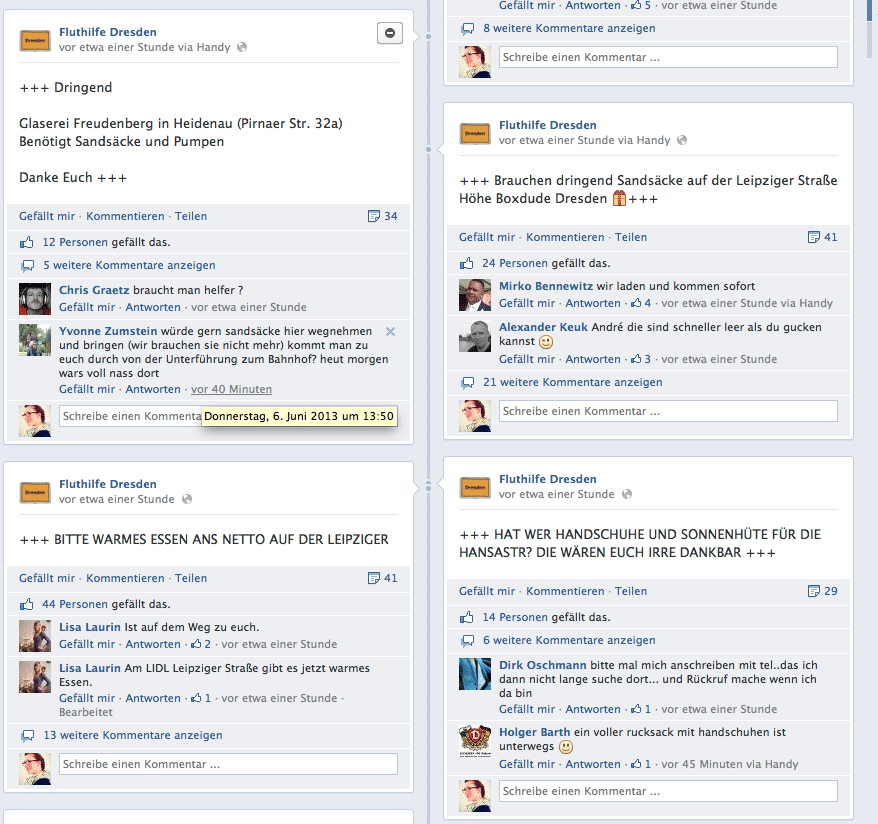 1. Swarm intelligence works – but only with a clear objective
Managers can in principle trust that people in everyday life, especially in times of crisis, act on their own initiative and self-organized when they are united by one goal. A self-organized group is not only able to respond faster and more flexible than a centralized organization. It also responds cleverly – swarm intelligence works. The bulk of Facebook users in the affected flood areas often knew more than one individual, such as a member of a crisis team or a team leader, and often even more as a specialized group of experts as a team from the Technical Relief. In addition, a group can move more.
2. Whoever allows self-organized action motivates!

Through self-assembly by means of networking tools many key decisions get unnecessary. That means that anyone who wants to act independently must not make a detour via decision-makers. Anyone can contribute ideas, suggestions or his help and be active – and a great many of people have the opportunity to do this purposefully such motivated that they have become really active.

3. Who relies on transparency and networking will be rewarded with speed

Especially in confusing situations much goes wrong. Even groups that organize themselves through Facebook, often make wrong decisions. So it happened that too many helpers arrived at certain locations after calls for help and got in each other's way. It often took only minutes, until this information has been shared on the network. All others were able to respond very quickly and go to other places where help was needed. Transferred to company, this means: Even in the corporate context employees are often much closer to the action than managers themselves.  They often can sound the alarm faster if abnormalities occur. If they sound the alarm, it is transparent. Whoever observes such a network receives information faster, e.g. about how he can re-allocate resources.
4. To rely on self-organization does not mean not to lead – but let go at the right time and to take the reins again

Self-organization of employees does not mean for managers that from now on everything is working without their assistance and they can therefore sit back. We have seen that self-organization and networking do not automatically guarantee that everybody is doing the right thing and sometimes that too many workers got in each other's way. Who allows networking and self-organization, has to continue leading- but differently. There is not set every single action but a framework for action, the leader plans and allocates resources in an agile way.
It can quickly respond to unforeseen developments and helps the network if necessary with a new framework to respond appropriately to problems. Letting go at the right moment and then increase the reins is an interplay that many managers have to learn. The great work of those volunteers in Dresden should encourage them to venture on this task.
What do you think? What would be your learnings? I am looking forward to find out.
Further insights from the experts from the practice.
Inspiring.